Sweet victories on the way to knowledge!
AUGUST 28 2022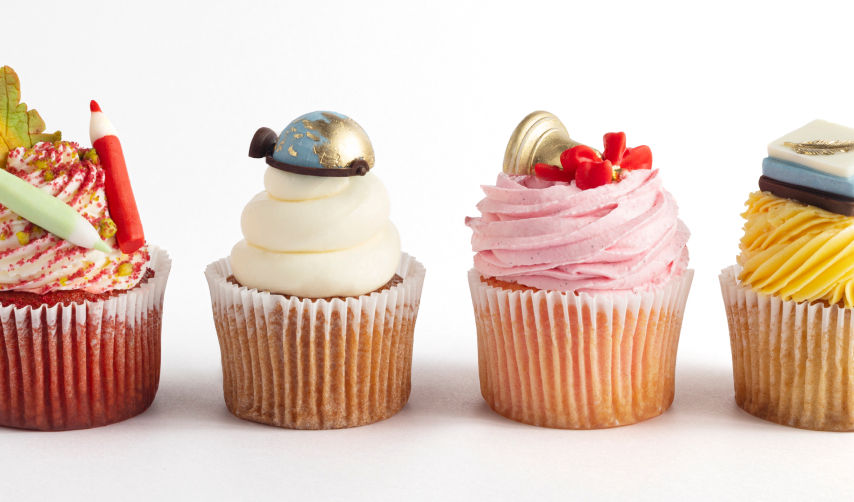 Traditionally, for the Day of Knowledge, we have created a collection of themed desserts that will delight not only with their taste, but also visually reflect the whole atmosphere of the holiday.
We were inspired by the tender memories of the first call and favorite lessons.
There is a kind message hidden in every sweet gift.
The festive collection includes four big cupcakes:
"The first bell" with strawberry filling, decorated with the main symbol of September 1 – a school bell;
"Poetry" with mango-passion fruit flavor, decorated with a book with a pen;
"Drawing" is a sponge cake with strawberry impregnation, strawberry confit topping with cottage cheese cream. Decorated with pencils and the atmosphere of autumn;
"Geography" with raspberry filling, cream based on cottage cheese, decorated with a globe.
It is worth paying attention to bento cakes, which are perfect as a gift to teachers or for a festive dinner in a family circle:
"Day of Knowledge" - Vanilla sponge cake with cottage cheese cream and strawberries;
"Globus" – Bento cake with chocolate sponge cake with chocolate filling.
Separately, we note ginger-honey cookies, in the name of which the main dream of all students is hidden - "Excellent", in the form of a school notebook made of icing sugar, decorated with the highest mark.
Gift sets will pleasantly surprise both children and adults.
The collection includes a set of 4 big cupcakes "School time" and a set of bright cookies "Colors of desires".
All desserts are already available on pre-order on our website.
We wish you a bright and delicious Day of Knowledge!