Easter Collection
APRYL 10 2023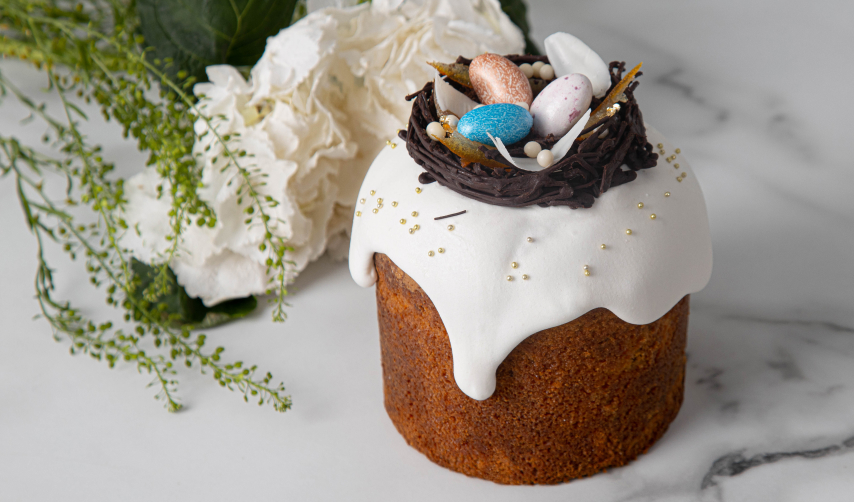 The bright Easter holiday is ahead. Traditionally, Sunday morning begins with a festive breakfast with the family. For such a pleasant occasion, our team of confectioners has created an Easter collection.
Beautiful cakes with raisins, walnuts, orange and lemon zest in different designs:
The "Blooming" cake is decorated with scarlet dried flowers, freeze-dried cherries, pistachios and a crumb of pink meringue.
The cake "Birdsong" is decorated with white meringue, a nest of chocolate glaze, chocolate-covered almonds and candied fruits.
The "Narcissus" cake is richly decorated with bright yellow narcissus flowers made of protein cream and meringue.
The cake "Poetry of Spring" is strewn with assorted nuts covered with gold: pecans, almonds, hazelnuts, cedar, pistachios.
In addition to the elegant cakes, we have prepared a line of festive big cupcakes. A truly spring "Easter" cupcake with pink tulips and bunny ears. Funny cupcake "Chicken" with raspberry-passion fruit flavor. Cute "Spring Bunny" is decorated with juicy cream grass and yellow cookies in the shape of a hare. And also a cupcake "Angel Wings" with raspberry filling. For convenience, we have collected Easter cupcakes in a set at a nice price.
It is worth paying attention to the trio of cookies in the form of a cake, a bunny and an angel. In the assortment you will also find two types of cake pops: in the form of a peach-colored egg and a yellow chick. Small, but no less important sweets that are perfect for a gift to loved ones on this wonderful holiday.
You can also buy colored eggs in delicate colors. And cottage cheese Easter with candied fruits and raisins.
All Easter treats are available by pre-order on the website.