Summer drinks
MAY 13 2022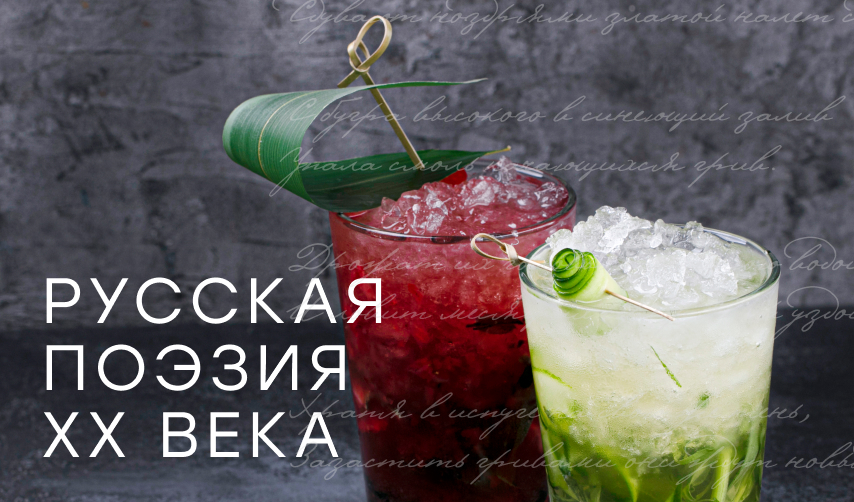 Brand bar manager Asker Hashev has created a collection of refreshing drinks dedicated to the Russian poetry of the XX century this season. Each drink is an author's interpretation of the poems of the great poets of the Silver Age: Alexander Blok, Anna Akhmatova, Sergey Yesenin, Vladimir Mayakovsky and Marina Tsvetaeva.
Our first "stop" in the fascinating "journey" is Alexander Blok's poem "Oh, I want to live madly ..." (1914). The scarlet sage lemonade with strawberries and honeysuckle reflects the main idea - a bright and catchy life.
Let's continue our literary "journey", the following tarragon lemonade with cucumber and dandelion is a reflection of the poem "Herd" (1915) by Sergei Yesenin. The rich color of the drink, as a symbol of green meadows and spring.
Mocktail with raspberries, coconut syrup and tonic in a refined wine glass is a reference to Anna Akhmatova's poem "The Muse" (1911). After all, the muse is inspiration that cannot be seen or felt.
"Could you play a nocturne on a drainpipe flute?" - a line from a poem by the bright and outrageous Vladimir Mayakovsky "Could you?" (1913). The atmosphere and mood of this work prompted the creation of cold coffee with orange sauce with hemp milk. A cinnamon stick as a symbol of a drainpipe.
The poem "Silver Ray" (1910) by Marina Tsvetaeva completes our literary "journey". Cold coffee with raspberries, whipped cream, decorated with a beam of raspberries and coconut chips.