Autumn menu
NOVEMBER 12 2021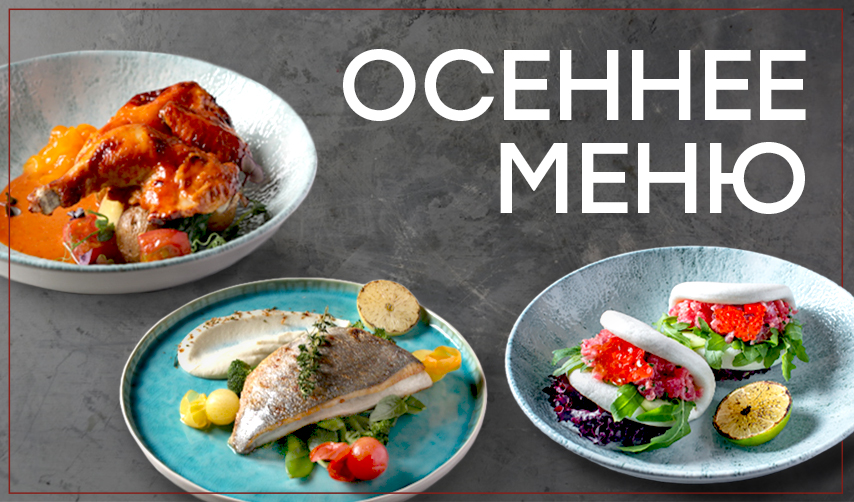 This fall Pavel Larionov, the brand chef of the Iconfood restaurant holding, has created a sophisticated menu. It contains original dishes with seasonal products.
As an aperitif or an appetizer with white wine, we recommend trying the tuna tar-tar in Asian bao buns with arugula and wasabi cream. For red wine - Black Angus roast beef on a crispy cheese cake, with truffle paste, parmesan and sun-dried tomato paste. Moving on to the salad - a combination of soft pumpkin pieces, ripe figs, delicate ricotta and nectarine dressing.
Pay attention to the Tagliatelle with porcini mushrooms in a classic interpretation with parmesan and olive oil. Who's especially hungry is the grilled Farm Chicken with mini potatoes and spinach. And of course, the chef has created a new Chipotle burger on pita with two beef patties, tomatoes, romano salad, pickles, mozzarella cheese, cocktail sauce and jalapeno relish.
For those who love fish, we recommend Fillet of Dorado with seasonal vegetables and cauliflower mousse.
For dessert: Mexican Churros with boiled condensed milk or caramel sauce. As well as light Panna Cotta Red Velvet with hints of basil and raspberry sorbet.