New author cocktails
JANUARY 28 2022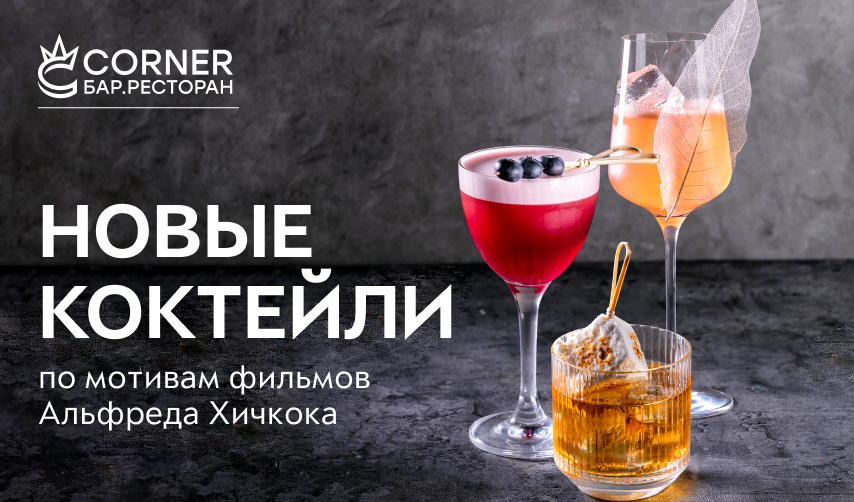 Our new cocktails are dedicated to the work of one of the brightest directors, Alfred Hitchcock. By right, his contribution to cinema cannot be overestimated. Inspired by his works, the brand bar manager of the Iconfood restaurant holding, Asker Hashev, created a collection of original drinks.
"Noir" - the stylistic direction in which the maestro worked, has always been characterized by a gloomy atmosphere and dark colors. The cocktail of the same name is made in the same style: absolutely black drink with decoration in the form of a black leaf. Ingredients: bourbon, carmenere, aged pu-erh and blackberries.
One of Hitchcock's standout films is "Spellbound." He became the starting point of the psychological detective as a genre. The great Ingrid Bergman, Salvador Dali and Gregory Peck became part of this tape. The film was shot in a hospital setting, where the main character is a doctor. That is why the cocktail is designed in light colors, and a skeletonized white sheet, as a reference to a medical gown or even a straitjacket… In the composition: golden rum, calvados and spicy syrup.
"Vertigo" is a canonical film by a recognized master, who became the founder of the thriller as a genre. The cocktail of the same name is prepared by the "stir" method - this is the rotation of the spoon in the mixing glass, is a reference to the dizziness from which the main character of the film suffers. Ingredients: bourbon, sherry, angostura, maple syrup and marshmallows.
A mix of gin, vermouth and sparkling wine is the basis for most classic cocktails. The fruits of Alfred Hitchcock's creativity are the basis for hundreds of his successors, who allow both homages and direct quoting of his cult scenes in their films. Hitchcock cocktail - jasmine gin with anchovy, prosecco, sweet vermouth and cotton candy.
Hitchcock is considered an unsurpassed master of creating a prolonged anxious state of the viewer when watching a movie. This artistic effect is called "Suspense". In a cocktail, the softness and apparent simplicity of black currants and blueberries hides the strength of gin. This combination creates a double bottom effect.
The horror "Psycho" is another masterpiece that combines all the characteristic elements of Hitchcock's style. Psychological thriller in the style of "noir", with the maximum effect of "suspense". The bright red color of the cocktail is a marker of anxiety. Its decoration: a skewer piercing raspberries, refers to the cult murder scene in the shower.