New Year's table
DECEMBER 25 2021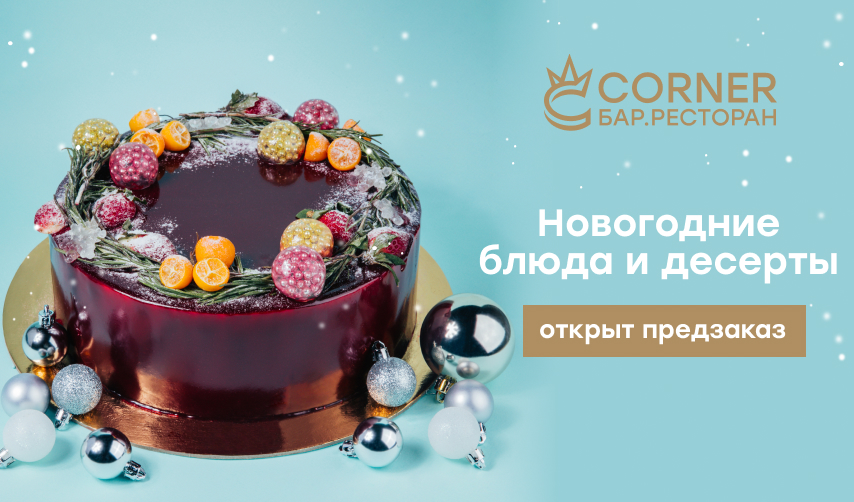 New Year, by tradition, is a family holiday and a good reason to gather in a close circle at a beautiful festive table. Taking care of our guests, we have created a collection of New Year's desserts and dishes. Take more time to communicate, and we will carefully prepare and deliver everything you need for the celebration.
Among the salads are classics of the genre in the author's interpretation: Olivier with turkey pastrami; Mimosa with spicy baked salmon and aioli sauce and Olyutorskaya herring under a branded coat of black beetroot.
As an aperitif, a meat plateau with roast beef, pepperoni and Parma ham; A cheese plateau: cheddar, dor blue, parmesan, goat cheese, camembert, with fruits, berries and grissini; or in a tender Salmon of its own salted citrus marinade.
A large selection of the main dishes of the festive table. For those who prefer meat: elegant Beef Wellington with bacon, served with mustard cream sauce or spicy Roast Beef baked with mustard and rosemary. We will also delight fish lovers: Trout with spinach, cream cheese in filo dough and Salmon baked with Provencal herbs; and juicy salmon Steaks.
Poultry dishes cannot be ignored: Baked turkey with corn pudding; Stewed duck with plum or Peking duck.
Do not forget about desserts. Pastry chefs presented six types of cakes with different decor. Snow Fairy Tale cake with Red velvet filling, richly decorated with snowflakes and snow-covered meringue Christmas trees. "Snowballs" is a Chocolate dream filling, decorated with a scattering of boiling white marshmallow balls and golden snowflakes. "Christmas toys" - carrot, decorated with Christmas balls, each of which is a mini sponge cake covered with icing.
"Winter Symphony", covered with two textures: chocolate velour and mirror glaze, on top of balls of Belgian chocolate and edible gold. The "Christmas wreath" is covered with mirror glaze, decorated with rosemary, kumquat, strawberries and French sugar caramel. "New Year's commotion" is a two-level cake with marshmallow figures and cake pops.
Buy themed cupcakes individually or in a set at a nice price. A great gift for friends and work colleagues.
"Christmas tree toy" with raspberry flavor
"Snowflake" with sour cream filling
"Frosty the Snowman - exotic taste of mango-caramel
"Christmas apple" - apple filling
"Ginger man" - blueberry
"Christmas"- a non-trivial taste of raspberry-passion fruit
The symbol of 2022 was not ignored either. Our line of desserts includes curly ginger cookies and cake pops with tigers, as well as with Santa Claus, a fawn or a snowman.
Treat yourself to bright desserts in the form of red and white Christmas balls with chocolate crumble, mint cream and chocolate mousse. And a cute green Christmas tree - with pistachio streusel, mousse and cherry jelly.
You can pre-order dishes and desserts on the website cornerstreet.ru and by phone 8 495 268 09 99