New Year's desserts
DECEMBER 08 2022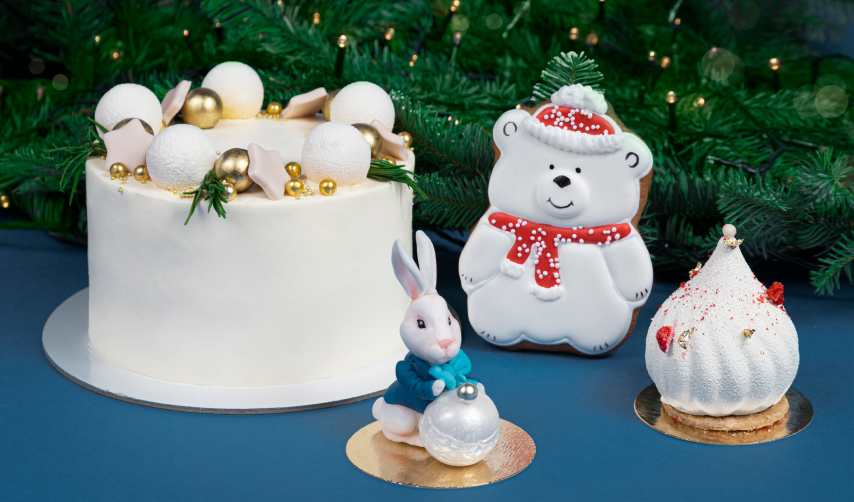 Pastry chefs of Iconfood restaurant holding have created a bright collection of New Year's desserts. Which will become not only the main decoration of the festive table, but also a great gift to relatives, friends or colleagues.
We present to your attention the author's line of big cupcakes.
Funny cupcake Polar bear - honey sponge cake with a filling based on condensed milk, cottage cheese cream, decorated with coconut chips and almond macaroons.
Everyone's favorite cupcake is Frosty the Snowman, which has been leaving our guests not indifferent for years. Inside is a sponge cake with raspberry jam, decorated with a meringue snowman.
Delicate cupcake Christmas tree toy is a red velvet sponge cake with strawberry topping with cottage cheese and cream, decorated with pale pink coconut macaroons.
Cupcake Cone is a chocolate sponge cake with chocolate topping, cottage cheese cream, decorated with a cone of chocolate glaze and a sprig of rosemary.
Elegant cupcake Christmas - sponge cake with raspberry jam, cottage cheese cream, decorated with meringue with sugar beads.
Cute cupcake Snowflake inside a sponge cake with blueberry topping, cottage cheese cream, decorated with a snowflake made of mastic.
If you plan to attend a house party or gather with colleagues in the office, we recommend that you bring cakes to order (48 hours in advance):
Snow fairy tale - carrot cake with cottage cheese cream, decorated with balls of their chocolate glaze, shiny stars of mastic, hazelnuts in chocolate glaze with gold and rosemary.
Blizzard is a Snickers cake, decorated with mastic snowflakes and coconut macaroons on top.
Winter Sunset - Red velvet cake, decorated with marshmallow snowballs and mastic Christmas trees.
Winter Symphony is a Vanilla ice cream cake with a white chocolate decoration in the form of Christmas tree toys, a man and Christmas trees.
The bright Bullfinch cake is decorated with chocolate-covered strawberries, Red Barkhart macaroons and mastic birds.
The Christmas Tree in the snow cake is decorated with a cone of glaze and rosemary twigs
The winter forest is strewn with snowballs and meringue Christmas trees and marshmallow drifts.
We will also pay special attention to case desserts. This year, Red and White Christmas balls joined the popular desserts:
dessert Christmas decoration in the form of a dome of white chocolate inside almond cookies and filling of walnut ganache, caramel and almond sponge cake. The top is covered with velour.
dessert Snowman: a cap made of chocolate glaze, and the bottom part is an almond cookie. mousse of white chocolate, cream and vanilla. Cranberry and strawberry filling with almond sponge cake.
No less important desserts are ginger cookies. In our assortment you will find 6 types of cookies for every taste. In the form of a polar bear, a snowman with a Christmas tree, a symbol of the year, a forest deer and Santa Claus. And also a cute and "warm" Gingerbread house in the snow with a snowman waiting at the entrance and a rowan tree on the roof. For even more festive mood, we put an LED in the kit, which you can put inside the house and enjoy its view.
And at the end of the collection, we will present cake pops with an abstraction on the theme of winter in white and blue design, as well as in the form of a rabbit.
We recommend placing an order in advance on the website (you can schedule the date and time of delivery), as well as by phone 8 495 268 09 99.
Happy New Year's Eve!