Summer dishes
JULY 29 2022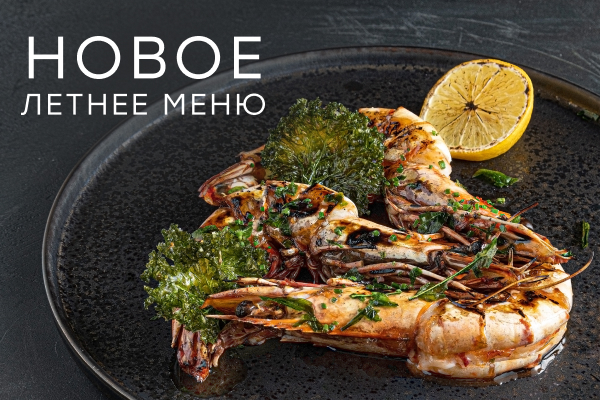 Despite the fact that most of the summer has passed, the brand chef Pavel Larionov has prepared new summer dishes. Everything so that our beloved guests can enjoy light fresh combinations!
It is worth starting with a Green salad with squid and shrimp, fresh cucumbers and tomatoes, watercress and herbs. Gazpacho is presented in two variations: classic and with crab. As a snack, cool Watermelon with feta, mint dressing and pumpkin seeds. An unusual combination of sweet and salty - you will definitely like it!
Fritto misto is crispy seafood with creamy chili wasabi sauce. And for those who like spicy Asian dishes, we recommend trying King prawns with honey yuzu sauce and spicy herbs.
Juicy marbled beef patty on a freshly baked bun with farm mozzarella, dried tomatoes and Parma ham. It's all about the new Parma burger!
Special attention should be paid to the Branded slicing of striploin, prepared using a special technology, where the meat is aged for 10 hours, which allows you to achieve an ideal level of tenderness, uniform degree of readiness and preservation of all useful substances.