Dessert collection on March 8th
MARCH 06 2023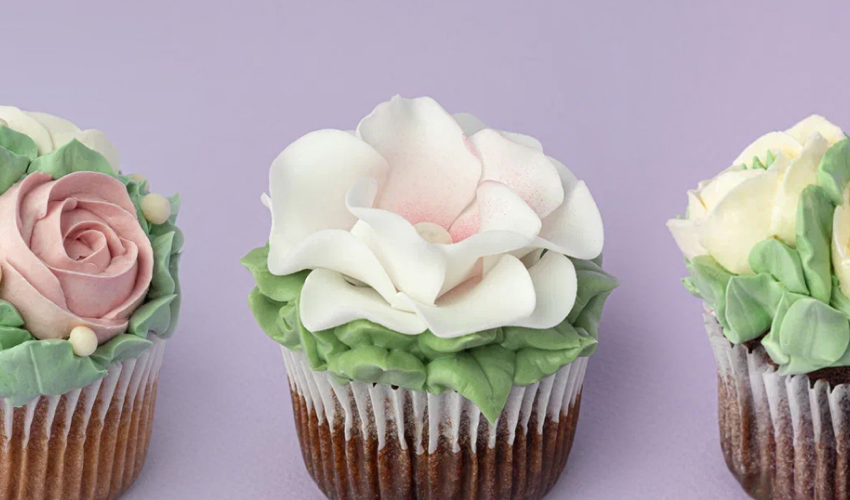 On the eve of March 8, our confectioners have created a bright spring collection of desserts. A sweet gift will pleasantly surprise and give unforgettable emotions.
The cupcake line is like a blooming garden, where all the girls' favorite flowers are sure to be found.
Big cupcake Primrose with chocolate filling, decorated with delicate yellow flowers on top;
Big cupcake Tulips, red velvet sponge cake inside, decorated with coral buds;
Big cupcake Magnolia with honey flavor, decorated with a blooming white magnolia flower;
Big cupcake Taste of spring decor in the form of a peony in lavender color with blueberry flavor;
Big cupcake Tenderness - a blooming rose with raspberry filling;
Big cupcake Tea roses with raspberry-passion fruit filling, decorated with delicate roses on top.
For convenience, all cupcakes are collected in a set at a special price of 1,750 rubles.
The festive assortment is complemented by a variety of cakes. First of all, you should pay attention to the cake Charm is an interpretation of the popular ice cream cake. Top with marble glaze and snow-white magnolia flowers. Delicate cake Roses in bloom with carrot filling, decorated with rosebuds. Cake Chrysanthemum charms with a deep purple color, inside the filling is red velvet. You can't ignore the small bento cake It's time for love with vanilla-strawberry flavor, decorated with dry scarlet roses.
In addition, there are two cakes in the collection to order in 48 hours, with fillings to choose from: red velvet, carrot or chocolate dream. Cake Spring Garden - richly decorated with languid flowers in pastel shades. And a very unusual cake The peony is made in the Malaysian style.
No less significant desserts in the line are cake pops, which give even more mood: Cherry blossom, White bird cherry and Lotus.