Desserts on February 23
FEBRUARY 15 2023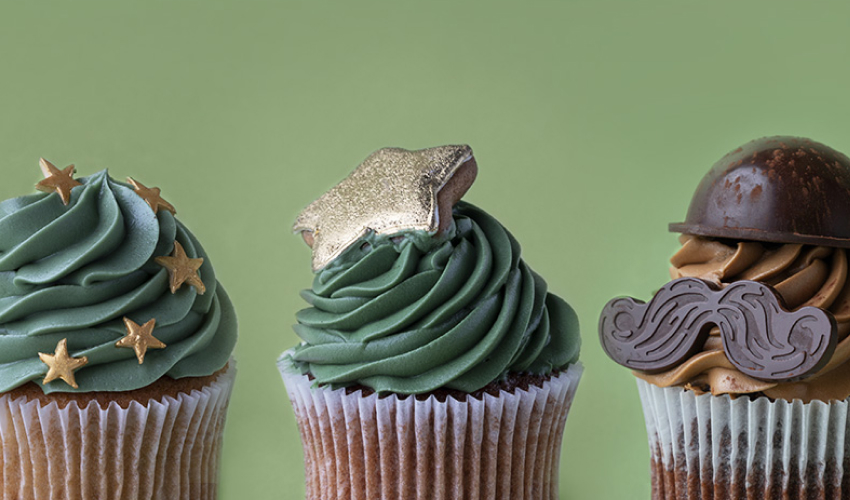 It's no secret that men also love sweets. Traditionally, for the Defender of the Fatherland Day, we have created a line of themed desserts. Which are suitable both in addition to the main gift, and as an independent present.
There are four big cupcakes in the collection:
"Gentleman" with a caramel whiskey filling, decorated with a bowler hat and a chocolate moustache;
"Valor" with raspberry flavor, decorated with golden cookies in the shape of a star;
"Victory" - a combination of raspberries and passion fruit in taste, sprinkled with golden stars on top;
"Devotion" stuffed with Red velvet, decorated with cookies in the form of a heart with a tricolor.
It is worth paying attention to whole cakes, there are three in the assortment:
"Bravery" - inside a Snickers cake, outside covered with chocolate and decorated with stars;
"Protection" - filling ice cream cake, marble coating on top and meringue in khaki style;
"February 23" - bento cake with Chocolate dream filling, on top of the numbers 23 and chocolate.
Whole cakes are perfect as a gift to colleagues or a family holiday dinner.
Let's move on to the beloved dessert "Cigar" - a subtle combination of chocolate mousse with whiskey, salted caramel, honey sponge cake with whiskey in a chocolate case.
And of course, do not forget about cake pops and cookies, they will definitely pleasantly surprise both children and adults. The collection includes cake pops "Courage" and "Courage", as well as bright cookies "Golden Star" and "Power" in the shape of a heart with a flag.
All desserts are already available by pre-order on our website. We recommend placing an order in advance.